Over Forty Per Cent of QEGS A Level Grades A - A*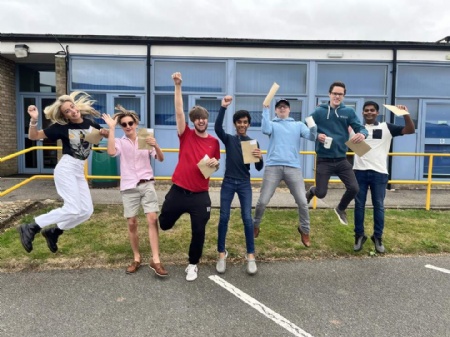 Queen Elizabeth's Grammar School, part of the Horncastle Education Trust, is celebrating another successful year after 40% of its A-level grades were As and A*s.
It's the first time since 2019 that A-level grades have been based on public exams, after two years of cancellations because of Covid.
Headteacher Simon Furness said despite experiencing three years of disruption to their studies this year's cohort has shown incredible resilience.
"We are particularly proud of our A-level students this year," said Simon.
"They have worked incredibly hard throughout their time in the Sixth Form and have prepared themselves fully for the next stage in their education or chosen career, with over 40% of A-Level results being either an A grade or one of the prestigious A* grades.
"They are without doubt an impressive group of young people who have navigated their way through the last three years with unbelievable maturity and resilience."
Singled out for their particularly impressive results were Minahil Fansur, Olivia Flanagan and Yasmeen Soliman who achieved A* in all their A-level subjects.
Also receiving special mention were Ella Allen-James, Alfie Baird, Max Booth, Dhruv Gongireddy, Katherine Hogg, Lily Johnson, Anton Kiss, Daniel Nicholson, Ella Pannell, Duvindu Pathirathna, Claire Patrick, Chloe Pickering, Amanda Platt, Harry Porcher, Tarun Ravi, Raghav Subramaniam, Sophie Wickstead and Lucy Wood who all gained an A or A* in each of their A level subjects.
Chief Executive of the HET Sandra James added: "The students at QEGS have done so well under particularly challenging and difficult circumstances, and we applaud their achievements; they are fine ambassadors for their school and the trust, and we wish them every success as they head off for pastures new."