New Year, New CEO for Horncastle Education Trust
The start of the new year has seen a change of leadership at Horncastle Educational Trust following the retirement of co-founder and CEO Heather Payne.
The trust's former Chief Financial Officer and Deputy CEO Sandra James has taken over the role from Heather who is stepping down following a long and successful career in education spanning 38 years.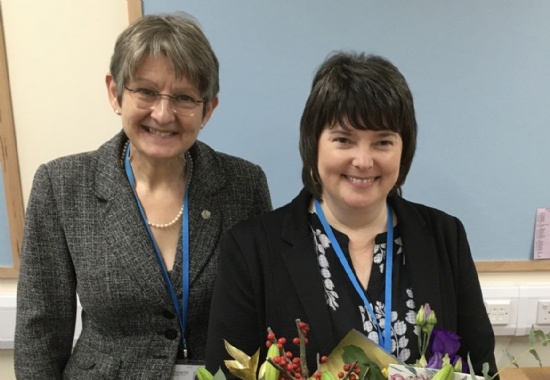 Heather said her career in education has been thoroughly rewarding: "From the moment I set foot in QEGS in July 1992, I fell in love with the school. It was a joy to teach young people who were eager to learn and to work with so many inspirational colleagues.
"I will be forever grateful to Tim Peacock who appointed me. From field trips and Duke of Edinburgh expeditions to running club and music, I have amassed a hatful of happy memories.
"Throughout my time in Horncastle, I have benefitted from the support offered by governors, trustees and members, staff, parents and the local community.
"I am delighted that Sandra James is the new CEO: I cannot think of anyone better to further Horncastle Education Trust's ambition to improve the life chances of our young people through schools working together. As I look back over nearly forty years in education, we achieve the best for our children when we pool our resources and share our expertise."
Prior to becoming CEO of the trust in 2018, Heather worked at Horncastle Queen Elizabeth's Grammar School (QEGS) initially as a geography teacher before progressing to Deputy Head and then Headteacher in 2009.
As the first female headteacher in the school's history she was responsible for many significant achievements including gaining the status of Specialist Science College which brought together both QEGS and Banovallum School; being judged Outstanding by Ofsted for the first time, leading QEGS through academisation; forming an umbrella trust to further embed partnership working; establishing a teaching school and finally creating the vision for a multi-academy trust.
New CEO Sandra worked alongside Heather to set up Horncastle Education Trust in December 2018 and has over 20 years' experience in the public sector.
She has worked with 11 headteachers during her career and is a Chartered Manager, a Fellow of the Chartered Management Institute and a Specialist Leader in Education.
Sandra said she is proud to be appointed as Heather's successor: "I am delighted and privileged to be appointed as CEO and will continue to work hard and ensure that children's education and well-being are at the heart of our trust.
"Alongside the fantastic staff within the trust, I am looking forward to building on the foundations of the past, inspiring the leaders of tomorrow and supporting the children and staff who will shape the future."
In addition to maintaining the sharp focus upon educational achievement, Sandra said she will ensure that the trust continues to strengthen, innovate and grow.
"The priorities for the future include the creation of a Children's Charter, a focus on the employee journey to include training, development and support for employees as an employer of choice, and further capital investment to enhance facilities," she explained.
"We are also looking forward to welcoming our fifth school, Huttoft Primary School, in the spring."
Speaking about Heather's retirement, Sandra said: "Heather has given tirelessly during her time within education, making a real difference to so many young people and staff along the way in addition to supporting several other schools in her role as a National Leader of Education (NLE).
"Heather and I worked closely with the headteachers and governors at QEGS, Banovallum School, Frithville Primary and New York Primary School to create the Horncastle Education Trust and I'm pleased to say we will continue to benefit from Heather's wealth of experience as she has agreed to remain as a trustee of the board."